RYT-200 Hour Certified Yoga Teacher. Erica started practicing yoga daily to bring herself flexibility, strength and balance. She enjoys doing yoga on the mat in the room, in nature and at the sea side. Erica brings yoga from the mat to everyday life and it helps her to be balanced, non judgmental and to learn new things. She likes learning and challenges, and encourages students to challenge themselves, learn new asanas, practice and enjoy every minute of yoga.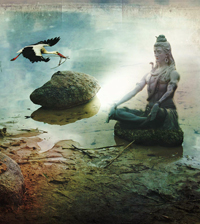 By Jessica Powers
There was this gem that I used to pass on my walk into work, written in chalk on the a-board out from a local yoga studio that always flustered and upset me:
Healthy Yogi = Happy Yogi
Um, excuse me, isn't my yogic happiness supposed to stem from overcoming my identification with my body? Happiness regardless of whether I'm healthy or not?
Aren't I working to identify and then release my I-amness, my ahamkara? Haven't you people read your Patanajali?
Right, okay. You are saying that life is better when we take care of our body. I get that. I just think it stinks to promote an activity designed to take us further than the body by equating the body to the whole person.
What if I am in an accident or develop an autoimmune disease? Am I excluded then from this happy yogi state because my body is compromised?
Health in the body is not entirely in my hands, even as I push them into the mat in down dog.
Indeed, as I push my hands down into the mat and lift up into wheel pose there is always a possibility that some fractional stress will hit its utmost point and I'll collapse in pain, harmed by my health quest through yoga.
Where's my happy then?
What about as I age?
My hairs are coming in white and grey and up front. I'm not going to dye over them. And while I use sunscreen (almost religiously) and I love my eye cream (organic carrot coloured stuff that smells amazingly of chamomile) I am aware that there are more lines and creases each year.
My body is changing. It has …read more
Source: http://theyogalunchbox.co.nz/2013/09/20/mixed-studio-signals-the-journey-from-yoga-classes-to-a-home-practice/