RYT-200 Hour Certified Yoga Teacher. Erica started practicing yoga daily to bring herself flexibility, strength and balance. She enjoys doing yoga on the mat in the room, in nature and at the sea side. Erica brings yoga from the mat to everyday life and it helps her to be balanced, non judgmental and to learn new things. She likes learning and challenges, and encourages students to challenge themselves, learn new asanas, practice and enjoy every minute of yoga.
By Guest Author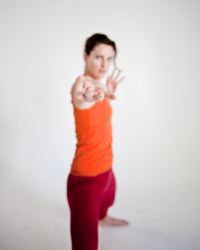 This entry is part 2 of 2 in the seriesWhat does commitment look like?
By guest author Keeley Mitchell, Zi Living
Welcome back for another discussion from The Business Side of the Mat.
In this article I wanted to delve a little deeper into the idea of committing to your business. When I speak of commitment, I am not referring to your commitment to your clients and students. I know that you are committed where that is concerned. I am referring to your commitment to running your business and growing it.
It's about truly making the commitment that you will treat your business as a business and owning the idea that you can sustain yourself by teaching yoga.
I know such ideas may take some time for you to wrap your mind around, but they are worthy of consideration. I understand the difficulty of moving from hobby mode of thinking to business mode of thinking because it wasn't too long ago that I needed to take the same steps.
You see, I fell into my consulting just as many of you fell into teaching yoga.
As I became more and more immersed into the yoga and wellness community, I got to know different yoga instructors and studio owners. Often, after they learned I was an attorney, they would throw me a legal question here and there. I was always open and willing to help.
I never allowed people to pay me and those who demanded otherwise, I usually traded my services for free yoga classes.
In some instances, I charged amounts like $25 – well below the going market rate for legal services.
I was a huge supporter of the yoga community and I wanted to see the positivity of yoga spread to more people. I saw that as my true compensation for helping yogis with …read more
Source: http://theyogalunchbox.co.nz/2013/09/26/committing-to-yoga-business-success/