lorna
Certified Yoga Teacher who has been practicing yoga for 7 years and teaching since 2009. Originally from Chicago, have traveled extensively to teach and study yoga.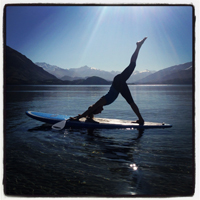 Stop, drop & practice – wherever you are. YLB Reader Christina McGrath on Lake Wanaka
One of the techniques I suggest people use in Forty Days of Yoga is something I call Stop, Drop & Practice. It's been a core reason why I've had a consistent practice the last eight years, and it still works for me now.
In fact, this is one of my most effective ways of ensuring that mat resistance doesn't de-rail my daily yoga practice and works great around children, or a busy life.
Stop, drop & practice means forgetting about needing a yoga mat and instead practicing wherever I am and whatever I'm doing.
This works equally well for asana and meditation practice, but for this article, let's focus on a stop, drop and asana practice.
A key component of Stop, Drop & Practice is the clothes you wear.
When you're always wearing clothing you can practice yoga in there's nothing stopping you from practicing anytime and anywhere. You never have to stop and get changed to do yoga.
Yes this is only a small thing. But it's another small thing that can mean the difference between practicing and not practicing.
It's not that difficult to find clothes that you can wear in your every day life AND practice yoga in:
Jeans stretchy enough for Downward Dogs and seated forward bends.
Dresses with leggings underneath.
Yoga pants, with long shirts or short dresses over the top.
Comfortable shorts and T-shirts tight enough to not end up around your neck in a Downward Dog.
There's very little left in my wardrobe I can't practice …read more
Source: http://theyogalunchbox.co.nz/2013/10/01/maintaing-a-home-yoga-practice/