RYT-200 Hour Certified Yoga Teacher. Erica started practicing yoga daily to bring herself flexibility, strength and balance. She enjoys doing yoga on the mat in the room, in nature and at the sea side. Erica brings yoga from the mat to everyday life and it helps her to be balanced, non judgmental and to learn new things. She likes learning and challenges, and encourages students to challenge themselves, learn new asanas, practice and enjoy every minute of yoga.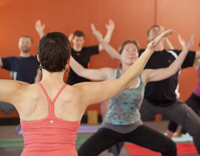 This entry is part 1 of 1 in the series
Learning how to be a better yoga teacher is an on-going journey
by Kelly Fisher, Urban Yoga
After almost a decade of teaching yoga as my full time career, I have had the privilege of watching some of the students who have come to my classes eventually become teachers themselves.
I have had the honour of fielding their questions and helping them through those uncertain first months and years of teaching.
Plus, as a huge geek when it comes to neuropsychology, yoga anatomy, yoga physiology and yoga alignment, I often help new teachers from other lineages get a better handle on how to incorporate those things into their classes.
When new teachers come to me asking advice, these are the top five things I end up sharing with them:
1. Be yourself when you teach yoga
For me, teaching yoga is a creative offering. When you're doing it well, there is a beautiful alchemy that takes place incorporating who you are as a person, what you have learned in the world, what you've learned in the context of yoga as well as how you're relating to the people in the room.
In that way, yoga classes are like wine. Yoga like wine? Yup.
Just because you've tried a 2002 Cabernet Sauvignon from Victoria, Australia does not mean you'll have any idea what a 2012 Sauvignon Blanc from Marlborough, New Zealand will be like. Similarly, there are a wide variety of yoga styles on offer these days in the Western world and they can vary wildly from each other.
And just like you may know the taste of a 2008 Pinot Noir from Central Otago does not mean that a 2012 Pinot Noir from California will bear much resemblance at all. The year, the climate, the soil, the winemaker will all …read more
Source: http://theyogalunchbox.co.nz/2013/10/04/five-ways-to-be-a-better-yoga-teacher/