RYT-200 Hour Certified Yoga Teacher. Erica started practicing yoga daily to bring herself flexibility, strength and balance. She enjoys doing yoga on the mat in the room, in nature and at the sea side. Erica brings yoga from the mat to everyday life and it helps her to be balanced, non judgmental and to learn new things. She likes learning and challenges, and encourages students to challenge themselves, learn new asanas, practice and enjoy every minute of yoga.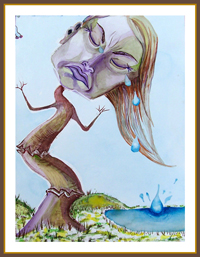 This entry is part 3 of 3 in the series
Love asks us to open to grief
by Kara-Leah Grant
It's all good and well to do these wonderful heart-opening or heart-balancing yoga practices, but without a proper understanding of all aspects of the heart chakra, we can easily hit a wall of resistance that stops our practice cold.
The heart chakra is about our ability to love – which requires that we open to the possibility of grief, sorrow and disappointment as well as the wonderful sensations of love, joy, fulfilment and compassion.
Working with this kriya meant I was likely to experience all of those emotions – not just the great ones!
Case in point.
It was Day 19 of my Forty Days of the Heart-Opening Kriya. I sat down to practice, and my mind kicked in immediately.
This is stupid. I don't want to do this. What's the point? This is a waste of time.
Wow? Really? I saw these thoughts and I almost listened to them. But, being on a forty day committed practice and all, I didn't. Instead I ploughed on through my practice for the day, and afterward wondered why on earth my mind was churning such negativity about a practice that was, in general, making me feel great.
The next day, I found out.
Unexplained grief arrived, set up camp, and made it's presence known. I felt heavy, sad, depressed, and just plain awful.
Oh… so this was why I'd had such serious mat resistance the day before – I was about to break through to some old feelings sitting there in my heart.
And this is why a forty day practice is so valuable. If I'd just been doing a regular daily practice, it's likely that those thoughts about the heart-opening kriya would have been …read more
Source: http://theyogalunchbox.co.nz/2013/10/09/grief-the-shadow-side-of-the-heart-chakra/