RYT-200 Hour Certified Yoga Teacher. Erica started practicing yoga daily to bring herself flexibility, strength and balance. She enjoys doing yoga on the mat in the room, in nature and at the sea side. Erica brings yoga from the mat to everyday life and it helps her to be balanced, non judgmental and to learn new things. She likes learning and challenges, and encourages students to challenge themselves, learn new asanas, practice and enjoy every minute of yoga.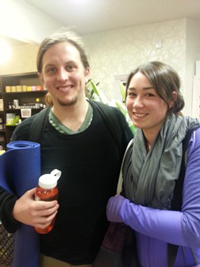 by Anthony Light
Editor's Note: Anthony recently completed 100 days of yoga classes at Flow Hot Yoga in Christchurch.
Downward dog can actually become a resting posture.
Sound a little exaggerated?
Well it can sound that way on days where I am feeling tight or tired. But for most of the time I'm now content hanging out in Downward Dog and observing how my body and mind adjust to the posture.
If you had said that to me before a few months ago, I would have laughed with a small amount of doubt sitting in the back of my head making itself present.
It's profound what can and does happen in any Yoga session. But one hundred days of yoga is something else.
Most are aware of the feeling of empowerment or achievement that one gets when applying small amounts of discipline over long periods of time – much like how one degree can make a huge difference to your destination on a twelve hour plane flight.
Yoga, like anything else, is no exception. Although yoga seems to have certain qualities that results in some unusual and unexpected results.
Out of every type of challenge I've attempted in my short twenty six years of life, Yoga has probably had the most profound effects.
Never have I gained such insight about my body, my mind and its inner workings in such a short length of time.
I'll add that 100 days was not the initial goal. There wasn't even a goal at all. It was initially some kind of self-intervention driven by guilt because the first six months of the year; I had practised yoga very little.
I didn't let the number …read more
Source: http://theyogalunchbox.co.nz/2013/10/18/100-days-of-hot-yoga/