RYT-200 Hour Certified Yoga Teacher. Erica started practicing yoga daily to bring herself flexibility, strength and balance. She enjoys doing yoga on the mat in the room, in nature and at the sea side. Erica brings yoga from the mat to everyday life and it helps her to be balanced, non judgmental and to learn new things. She likes learning and challenges, and encourages students to challenge themselves, learn new asanas, practice and enjoy every minute of yoga.
By Guest Author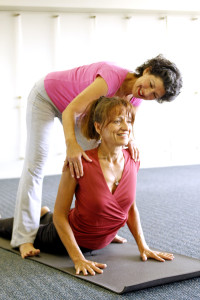 Susan assisting a student
So many younger people are taking to yoga these days as opposed to thirty years ago when I was cutting my teeth as a student and yoga was still considered way too esoteric for your average citizen.
And what an assortment of choices on the yoga menu today!
Back in the day you were either an Iyengar student (and this was truly cutting edge) or doing what my teacher somewhat disdainfully and condescendingly called 'fruit salad' yoga (or old lady's yoga).
Nowadays there's a dizzying confusion of yoga 'styles' to choose from.
And precisely because yoga is attracting so many young people, hundreds of young yoga teachers are emerging and trying to get established.
I started teaching when I was forty-five, pretty old by today's yoga teacher standards. I'm now in my early sixties so I guess that makes me really old by today's reckoning!
So how do I manage to compete with the flood of gorgeous young things, all of whom look a whole lot sexier than me? And who may well be able to bend and stretch and pivot and hold and reach rather better than me?
Do I still have what it takes? Am I still relevant? Do students want older yoga teachers?
I guess the answer is some do and some don't. It all depends on why the student is practicing yoga.
If a student has not yet dug deep and is still 'doing yoga' as a form of exercise like many beginners (and hey – we almost all start there), then chances are they'll want a yoga teacher who's a little more spicy than me. Check out the hot and sweaty classes, the power …read more
Source: http://theyogalunchbox.co.nz/2013/10/21/old-yoga-teachers-are-the-best-yoga-teachers/