RYT-200 Hour Certified Yoga Teacher. Erica started practicing yoga daily to bring herself flexibility, strength and balance. She enjoys doing yoga on the mat in the room, in nature and at the sea side. Erica brings yoga from the mat to everyday life and it helps her to be balanced, non judgmental and to learn new things. She likes learning and challenges, and encourages students to challenge themselves, learn new asanas, practice and enjoy every minute of yoga.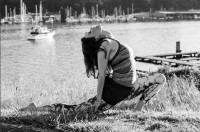 Teacher Training: Open Heart Surgery
Many a starry-eyed, full-hearted yogi signs up for yoga teacher training – whether it's to deepen their practice, to start a career as a yoga teacher or to learn more about the subtle energy fields that guides their life's direction – they're ready to dive deep.
To be sure, your experience will be unique to anyone else's. Kind of like growing up in the same household with your siblings (I'm an only child, but I've heard sisters talk about the same parent as if they were talking about two completely different people), your lens will colour your experience, as will everyone else's in your teacher training group. That's part of what makes each teacher training group so special.
Knowing this, I would never claim to know what your experience will be like; however, I am an advocate of connecting any way we can.
With that, I humbly present to you: What Nobody Ever Tells You about Yoga Teacher Training.
1. Your Most Carefully Guarded Secrets Will Have Nowhere to Hide
My Forrest Yoga foundation teacher training was, in a word, intense. Each day started with two hours of powerful asana with a different personal and provocative theme at its nucleus. Ana Forrest performed some kind of magic will her long holds in deep backbends that brought atrophied emotions to attention, demanding to be dealt with. She's a shaman to be sure and, though I've tried to deconstruct her methods, her magic is a mystery.
Secrets poured out of my soul that I didn't even know I'd been keeping from myself. During my teacher training, I was able to connect dots that were so mind-blowing it will probably take my whole …read more
Source: http://theyogalunchbox.co.nz/2013/10/26/what-nobody-ever-tells-you-about-yoga-teacher-training/