RYT-200 Hour Certified Yoga Teacher. Erica started practicing yoga daily to bring herself flexibility, strength and balance. She enjoys doing yoga on the mat in the room, in nature and at the sea side. Erica brings yoga from the mat to everyday life and it helps her to be balanced, non judgmental and to learn new things. She likes learning and challenges, and encourages students to challenge themselves, learn new asanas, practice and enjoy every minute of yoga.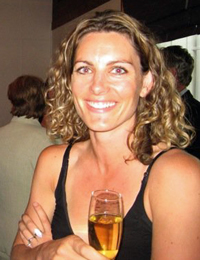 Just a glass of wine right? (Circa 2006)
It was one of those behaviours or activities that started softly, softly, slipping in under the mat and under awareness.
A shared bottle of wine once a week.
A shared bottle of wine twice a week.
A bottle of vodka in the house – a cocktail before dinner four or five times a week, then a glass or two of wine.
Never more than two or three drinks in a night, never every night of the week. But still…
As time went by, this behaviour began to tug at my consciousness. I noticed I was drinking more. That I seemed to want to drink more. That there were times when I didn't feel like I could say no to a glass of wine at dinner.
Eventually, a desire arose to stop drinking, but my desire to continue was too strong and so I kept drinking.
Now I knew that I was indulging in alcohol not for pleasure's sake but for avoidance sake. Something was at play, I was using substances again and it wasn't pretty.
So one night, after another night of wine with dinner, I stopped.
Cold turkey.
And boy what a difference. I feel clearer. I'm more present. My asana practice has increased. I'm naturally waking up early again, and wanting to get out of bed. I feel healthier. I'm making better food choices.
My early morning yoga practice has naturally resumed – stoked to finally be practicing in the AM after years of home practice, it went by-the-by a couple of months ago. What luxury to again be up early enough to practice yoga!
But I've also had to face the issues around intimacy I was avoiding – the very …read more
Source: http://theyogalunchbox.co.nz/2013/10/30/drinking-alcohol-a-big-no-no-for-serious-yogis/