RYT-200 Hour Certified Yoga Teacher. Erica started practicing yoga daily to bring herself flexibility, strength and balance. She enjoys doing yoga on the mat in the room, in nature and at the sea side. Erica brings yoga from the mat to everyday life and it helps her to be balanced, non judgmental and to learn new things. She likes learning and challenges, and encourages students to challenge themselves, learn new asanas, practice and enjoy every minute of yoga.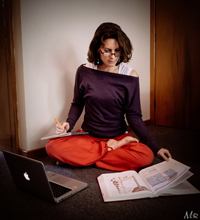 Planning a business is vital for it's success – even a yoga business.
By Keeley Mitchell, Zi Living
Recently I had the pleasure of having someone inquire about my services and in our discourse she asked two questions.
1. How much experience should she have before opening her yoga studio?
2. How much money does it cost to open a yoga studio?
While I could not give her a definitive answer to her questions, I felt our discussion was still a positive one. You see, I gave my inquirer kudos for doing her research well in advance so she could plan accordingly.
As I discussed in the first article of The Business Side of the Mat, setting clear and concise goals is a MUST for having a successful business. So what do I mean by setting clear and concise goals?
I mean that if you want to run a successful yoga business, you need to write a solid yoga business plan.
If you already have a successful full-blown operation, don't consider yourself exempt from writing business plans. It's still be a good idea for you to still have one.
No matter what type of business you operate, including a yoga business, you need a written business plan. Business plans provide you with the blueprint for operating your business and they keep you on track to reaching your goals.
I can feel many of you beginning to protest and say that you ONLY teach yoga, and a formal written business is not needed.
"Business plans are an outdated practice reserved only for those seeking funding from investors."
Or does this sound familiar?
"I know what goals I want to achieve. …read more

Source: http://theyogalunchbox.co.nz/2013/11/16/have-you-stated-your-intentions-the-importance-of-writing-a-business-plan/