RYT-200 Hour Certified Yoga Teacher. Erica started practicing yoga daily to bring herself flexibility, strength and balance. She enjoys doing yoga on the mat in the room, in nature and at the sea side. Erica brings yoga from the mat to everyday life and it helps her to be balanced, non judgmental and to learn new things. She likes learning and challenges, and encourages students to challenge themselves, learn new asanas, practice and enjoy every minute of yoga.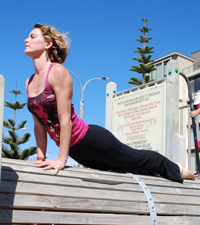 by Kara-Leah Grant
Like Chatranga Dandasana, Urdhva Mukha Svanasana is a posture we usually only spend a breath or two in during yoga class. It's a posture of transition and movement. And it's a posture that's very easily to do badly, creating stress on our lower back and shoulders.
For this reason, it's a posture I'm now wary of teaching in a general, drop-in yoga class. Yes, it's a staple of sun salutations and yoga, yet many of the people I see coming to class aren't yet ready to swoop into Urdhva Mukha Svanasana.
They're not yet open enough in the shoulders to allow them to roll back and release down.
They don't have the awareness in the body to engage through the legs and anchor the pelvis in the correct position.
And they don't yet have an integrated awareness through the spine and torso that prevents sagging through the lower back.
In our own home yoga practice though, we have time to explore Urdhva Mukha Svanasana with patience and mindfulness.
Try these techniques to explore the way the body moves, releases and activates in Upward Dog.
Stand in front of a wall, at about arm's length distance.
Inhale and lift your arms up to shoulder height, palms face up and parallel to the wall.
Step in close enough to press your palms firmly into the wall.
Spread the fingers slightly and press the palms firmly in the wall.
Now check all your alignment and notice where you naturally tend to place your body in this posture. Because you're standing and using a wall, you're not in a weight-bearing position so you've got time to use your breath and awareness to really explore into the arm, shoulder and upper back position of …read more
Source: http://theyogalunchbox.co.nz/2013/11/09/sun-salutations-upward-dog-urdhva-mukha-svanasana/