RYT-200 Hour Certified Yoga Teacher. Erica started practicing yoga daily to bring herself flexibility, strength and balance. She enjoys doing yoga on the mat in the room, in nature and at the sea side. Erica brings yoga from the mat to everyday life and it helps her to be balanced, non judgmental and to learn new things. She likes learning and challenges, and encourages students to challenge themselves, learn new asanas, practice and enjoy every minute of yoga.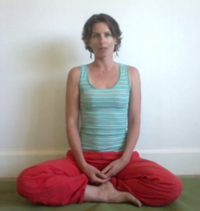 Got a question about Home Yoga Practice?
Home yoga practice – it's awesome and everyone's getting into it, right?
But you know what's missing?
A teacher. That's what.
I mean, at the end of the studio class, you can always go up to the yoga teacher and ask whatever burning question is on your mind.
But when you practice yoga at home? Who you going to ask?
Me, that's who.
Yep, every week or two, I'll be selecting a reader question to answer on video, and sending out a new article. That way, not only can you get your question answered personally, but other people can benefit from the answer.
Because in the end, if you have that question, it's likely that thousands of other people have that same question.
This week's home yoga practice question comes from Lila in Israel. She says:
"I need your advice – I feel very heavy, with very low confidence in my yoga skills, I have three kids and a full time job – what should I start with? With Sun Greetings a few times in a raw? Or one or -two asanas that might make me feel better with myself? Appreciate your help and personal advice very much!"
Watch the video to find out how I responded.
Home Yoga Practice Q & A with Kara-Leah Grant
Question #1: What should I start my home yoga practice with?
Can't see the video in your RSS reader or email?
Click Here!
Bonus Information:
After I watched my response back, I realised I'd missed one important piece of information, so here it is.
Lila, when you get on your mat, watch the thoughts and feelings that rise about how heavy you feel. Notice the tone you …read more
Source: http://theyogalunchbox.co.nz/home-yoga-practice-questions-what-should-i-do-in-my-practice/