RYT-200 Hour Certified Yoga Teacher. Erica started practicing yoga daily to bring herself flexibility, strength and balance. She enjoys doing yoga on the mat in the room, in nature and at the sea side. Erica brings yoga from the mat to everyday life and it helps her to be balanced, non judgmental and to learn new things. She likes learning and challenges, and encourages students to challenge themselves, learn new asanas, practice and enjoy every minute of yoga.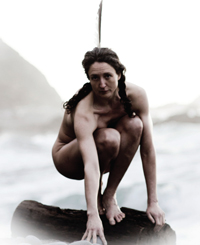 How you're looking is how you're going to see it.
And how you've seen it is how you think it should be.
Unless you see it and change it.
A story is not just a story.
It's your view to life itself.
Your interpretation creates your world.
This is a quote from my play, PocaHAUNTus—shapeshifting history into Herstory, that I'm in the middle of writing.
Writing this play has been an enormous challenge because one of the main premises is the relativity of truth, as the quote above indicates.
How do I write a story that indicates that how you tell the story IS the story itself, without dictating what that story looks like so that each audience member is then free to recognize that we are all-ways inventing the world by the view we take to it?
And what does this have to do with yoga?
So often I have been regaled with the refrain;
I can't do yoga!–I can't even touch my toes.
This is just a story that someone's telling themselves about their lack of flexibility. Finally I have come up with a suitable retort;
Well, you won't get any closer to touching your toes by not doing yoga!
So many of us assume the position of solidification, of matter being fixed particle instead dynamic and relational particles, or even waves. We so easily assume that maturity is a matter of material accumulation–of stuff we can buy and sell, or of knowledge we can stack up, or of the body's baggage.
Is this true?
I cannot count the number of people who have said to me, resignedly;
It's just old age.
Ok, I'll admit I'm not 60 or 80 years old yet and don't know what they feel or …read more
Source: http://theyogalunchbox.co.nz/drishti-and-the-relativity-of-truth/