RYT-200 Hour Certified Yoga Teacher. Erica started practicing yoga daily to bring herself flexibility, strength and balance. She enjoys doing yoga on the mat in the room, in nature and at the sea side. Erica brings yoga from the mat to everyday life and it helps her to be balanced, non judgmental and to learn new things. She likes learning and challenges, and encourages students to challenge themselves, learn new asanas, practice and enjoy every minute of yoga.
By Guest Author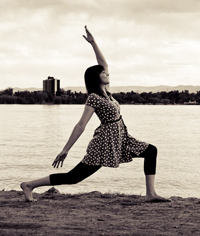 I remember the first time I took an antidepressant.
It was my third year of high school and I couldn't swallow pills, so I had liquid Prozac in a tiny cup.
It didn't taste like anything, but during that time nothing did.
I looked intensely at that drug for an hour before I took it, tears streaming down my face, feeling like a big fat failure.
I remember the last time I took an antidepressant.
I had moved to a new state, was on Zoloft, and weaned myself, thinking I didn't need it anymore. I was right that I didn't need it, but the drug's withdrawal symptoms brought me straight back to why I went on it in the first place.
This time, however, I could tell that my brain was sabotaging me. It was like attempting The Claw in the mini-mall, when you go for the most big, obvious prize that should seem easy to extract, but it still cleans out all your cash before you win.
A year before I came off that antidepressant, I had discovered yoga.
I had no idea what to expect and I was by no means flexible; my posture was slouchy and I could barely touch my toes. I showed up once a week for a whole year, convinced there had to be a more natural way to heal.
In the beginning, yoga class was the one hour a week that wasn't occupied by how miserable I was. Out of 730 hours in a month, four of them were spent (finally) back in my body and out of my brooding mind.
What our bodies are trying to tell us.
Ancient yogic texts reveal that yoga is not a physical exercise for the sake of exercise, as it's sometimes thought of …read more
Source: http://theyogalunchbox.co.nz/how-yoga-helped-me-overcome-depression/