RYT-200 Hour Certified Yoga Teacher. Erica started practicing yoga daily to bring herself flexibility, strength and balance. She enjoys doing yoga on the mat in the room, in nature and at the sea side. Erica brings yoga from the mat to everyday life and it helps her to be balanced, non judgmental and to learn new things. She likes learning and challenges, and encourages students to challenge themselves, learn new asanas, practice and enjoy every minute of yoga.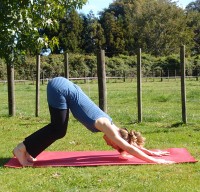 Keep the knees super-bent in downward dog to take all stress out of the lower back and let the pelvis tilt forward.
This week's Home Yoga Practice questions comes from Catherine in India. She writes:
I have practiced yoga for many years and for the last 6 months have been doing a regular home practice. However last month I had an MRI scan due to persistent backache and discovered that I have a slipped disc. My doctor has asked me to stop yoga – forward bends are a definite no – and his opinion is that I should walk and swim as exercise (which I have been doing).

My back pain has gone after rest. I still practice pranayama and meditation but I miss asanas whilst also being incredibly wary of making my back worse. Are you aware of any sequences I can do that avoids forward bends, strong backbends, and generally keeps my spine straight?

Thank you so much

Namaste

Catherine

PS I currently live in India and visited both Western and Ayurvedic doctors – they both advised to stop asanas.
Is it possible to practice yoga with a herniated disc? Yes, it is. And practiced mindfully and with caution, yoga can help the condition heal.
However if you're still in acute pain and any movement aggravates the sciatica, wait until the acute symptoms have abated before starting any kind of practice. And never, ever, ever practice through or into pain.
Pain is your body's signal to back off!
Home Yoga Practice Video Question 2:
Can I Practice Yoga with a Herniated Disc?
Can't see the video in your RSS reader or email?
Click Here!
If yoga is possible even with a herniated disc, …read more
Source: http://theyogalunchbox.co.nz/home-yoga-practice-questions-can-i-practice-yoga-with-a-herniated-disc/