RYT-200 Hour Certified Yoga Teacher. Erica started practicing yoga daily to bring herself flexibility, strength and balance. She enjoys doing yoga on the mat in the room, in nature and at the sea side. Erica brings yoga from the mat to everyday life and it helps her to be balanced, non judgmental and to learn new things. She likes learning and challenges, and encourages students to challenge themselves, learn new asanas, practice and enjoy every minute of yoga.
By Guest Author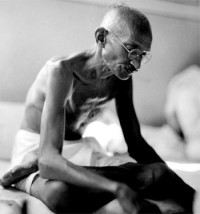 Ghandi, a man of great compassion who walked the path of Jnana and Karma Yoga.
by John Guthrie
Sitting quietly, the dawn chorus yet to begin, I think of that one word, compassion.
The image of a hermit in a cave somewhere comes to mind, and I reflect on this as the embodiment of compassion.
Away from the world, yet radiating out the peace that arises from compassion, which has been birthed in the depth of their silence. A place that could just as well have its roots in suffering.
There are those whose compassion has arisen from personal suffering.
In the last one hundred years the likes of Mahatma Gandhi, Martin Luther King, the Dalai Lama, Nelson Mandala and Mother Theresa have been an inspiration to all.
These are the ones we know, for the really encouraging thing is the ones we do not so readily hear about, yet are out there in the world quietly going about their good works and bringing some solace and joy into the hearts of many whose lives have taken them on a less than fortunate path.
One such person is the reverend Ruth Wright who in a desolate district of Vancouver in Canada begins her day at five am to administer to the needy at her First Uniting Church.
There is no judgement of how these people made their choices in life. Ruth acts to address their immediate needs be it a cup of coffee, a bowl of soup, a blanket or advocacy.
She is not alone in her work, she has helpers, but it is the extraordinary strength and example of one person who acts without need of thanks, that gives inspiration to many. Her work is truly compassionate and embodies what we call in the Bhagavad Gita, Karma Yoga. (1)
Source: http://theyogalunchbox.co.nz/how-compassion-makes-yoga-relevant/