RYT-200 Hour Certified Yoga Teacher. Erica started practicing yoga daily to bring herself flexibility, strength and balance. She enjoys doing yoga on the mat in the room, in nature and at the sea side. Erica brings yoga from the mat to everyday life and it helps her to be balanced, non judgmental and to learn new things. She likes learning and challenges, and encourages students to challenge themselves, learn new asanas, practice and enjoy every minute of yoga.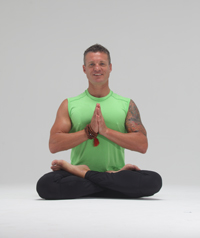 by Kara-Leah Grant
I'm loving this interviews series with Wanderlust teachers because every time I've walked away impressed by the yoga teacher I've interviewed.
This time, I was talking to Australian bloke Duncan Peak – and he is a bloke in every sense of the word. He went from high school into the military and spent time as a paratrooper. He played professional rugby union. And right through it all, he was practicing either meditation or yoga.
Like Amy Ippoliti, Duncan was introduced to yoga and meditation at age 16, and while he didn't talk about it with his mates at school, it was the beginning of a life-long practice.
Post-army, Duncan got back into a more physical practice (he'd been mainly meditating while in the army) to cope with the injuries he'd sustained. He did the rounds of the teachers, spending time in Mysore with Pattabhi Jois, he studied Iyengar, and he spent time with Baron Baptiste (Power Yoga) eventually co-facilitating retreats with Baron all over the world.
Prior to speaking to Duncan, I was somewhat wary – I'd read an interview where he described Hatha Yoga as a product he knew inside out, and the marketing speak on Power Living's website made me prickly.
"Duncan… smashes the stereotype of what a Yogi should be and rather focuses on being himself and creating a methodology inspired by ancient teachings that he believes is relevant for today's world."
However, as we spoke, it was clear that Duncan knows his stuff inside out – not just asana but also the philosophical under-pinnings of yoga and how to apply it to our daily lives.
What most impressed me was his clarity around …read more
Source: http://theyogalunchbox.co.nz/duncan-peak-on-what-modern-yoga-really-is/