RYT-200 Hour Certified Yoga Teacher. Erica started practicing yoga daily to bring herself flexibility, strength and balance. She enjoys doing yoga on the mat in the room, in nature and at the sea side. Erica brings yoga from the mat to everyday life and it helps her to be balanced, non judgmental and to learn new things. She likes learning and challenges, and encourages students to challenge themselves, learn new asanas, practice and enjoy every minute of yoga.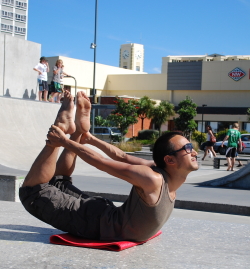 Home Practice can happen anywehere… Taisuke Tanimura at a skateramp in Wellington
by Kara-Leah Grant
Catch me speaking at the World Home Practice Summit the week of March 23. It's a free event, click here to sign up and join other top yoga teacher sharing their tips and tricks on a home yoga practice.
As a yoga teacher, my goal is to inspire my students to practice yoga at home.
It's great when people get themselves to classes three times a week, but the true benefits of yoga really start to unfold when you commit to just showing up on your mat by yourself and seeing what happens.
In a class, your focus is both internal and external. You're listening to the teacher and watching the demonstrations while also paying attention to what's going on inside of you.
When you practice at home, there is no need to focus on anything external, so 100% of your attention is on how your body feels, what your breath is doing and how your mind is reacting. You can read more about this in my post How to start a home yoga practice.
And hopefully you have started – now it's time to build that practice further.
When I talk about building a home practice, I'm not talking about using a DVD either. DVDs can be useful and it might be how you begin to get into the habit of practicing at home, but in essence, it's exactly the same as going to class because your focus is still largely external.
But making that shift can be extremely intimidating. How will you know what to do? What if you get it wrong?
Trust …read more
Source: http://theyogalunchbox.co.nz/how-to-build-a-home-yoga-practice/