RYT-200 Hour Certified Yoga Teacher. Erica started practicing yoga daily to bring herself flexibility, strength and balance. She enjoys doing yoga on the mat in the room, in nature and at the sea side. Erica brings yoga from the mat to everyday life and it helps her to be balanced, non judgmental and to learn new things. She likes learning and challenges, and encourages students to challenge themselves, learn new asanas, practice and enjoy every minute of yoga.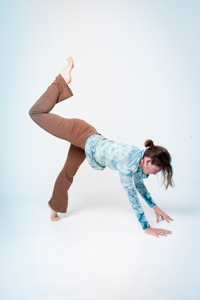 When you practice at home, you've got more time to play in the postures.
It's easy when you regularly go to yoga classes to dismiss the idea of home yoga practice – after all, you don't need it right? You're already practicing in class 2 or 3 or maybe even 5 or 6 times a week.
However, even if you are going to class, there is much to be gained by also doing a home yoga practice.
It doesn't have to be every day, and it doesn't have to be long. Ten minutes is enough. Even such a small amount of time can have enormous benefits over time.
The difference between a yoga student who just goes to class, and a yoga student who goes to class and also practices at home comes in a number of ways.
One, when you take time to practice at home you're forcing yourself to do the postures from memory, which means you're not just learning them by rote. You begin to understand the postures in a more organic way.
Two, students that practice at home often have more questions because they're playing with things in different ways. their learning can take them unexpected ways.
Three, students that practice at home become more confident in class, and make greater gains in their practice over-all.
Watch the video to find out five benefits of practicing at home as well as going to regular yoga classes – it could be just what you need to take your practice to the next level.
Home Yoga Practice Video Question 3:
Do I Need a Home Practice when I Regularly Go To Yoga Class?