RYT-200 Hour Certified Yoga Teacher. Erica started practicing yoga daily to bring herself flexibility, strength and balance. She enjoys doing yoga on the mat in the room, in nature and at the sea side. Erica brings yoga from the mat to everyday life and it helps her to be balanced, non judgmental and to learn new things. She likes learning and challenges, and encourages students to challenge themselves, learn new asanas, practice and enjoy every minute of yoga.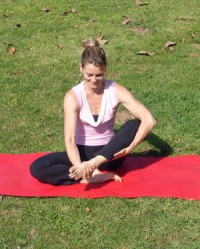 This entry is part 3 of 3 in the seriesOur mental approach to a posture says it all
by Kara-Leah Grant
Asana is a powerful tool to access our psyches, release tension in the body and help us understand the hidden aspects of Self.
Practicing asana gives us the opportunity to observe our relationship with the postures, with our bodies, with our minds and with our breath.
This relationship is what reveals ourselves to ourselves.
In other words, paying attention to questions like this is how we use asana to awaken.
Are you liking the pose?
Disliking the pose?
Or are you completely absent from the pose as you think about what you're going to have for dinner tomorrow night?
Being aware of your thoughts and where your attention is going takes your asana practice to the next level – it takes it into Yoga. This awareness opens up yoga philosophy on the mat – and yoga philosophy (simply the study of the psyche) directly answers everything that is going to come up on your mat. It answers your fears, your anxieties, your tension, your discomfort, your emotions and your thoughts.
There is so much to learn about yoga philosophy you can spend a whole life time studying it – and lots of yogis have done just that. They've studied the fluctuations of the mind, the psyche, the body – and they know how all of these things work together.
But these yogis weren't reading books to gain these understandings, they were reading their bodies and mind on the mat (and off)… and then passing on everything they experienced for later yogis like you and I to read all about – and then discover for ourselves on the yoga mat.
For example, there are the Kleshas, described as obstacles of the mind and five in total. These obstacles of mind block …read more
Source: http://theyogalunchbox.co.nz/the-beginners-guide-to-yoga-part-3/