RYT-200 Hour Certified Yoga Teacher. Erica started practicing yoga daily to bring herself flexibility, strength and balance. She enjoys doing yoga on the mat in the room, in nature and at the sea side. Erica brings yoga from the mat to everyday life and it helps her to be balanced, non judgmental and to learn new things. She likes learning and challenges, and encourages students to challenge themselves, learn new asanas, practice and enjoy every minute of yoga.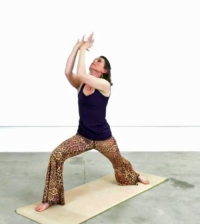 This entry is part 3 of 3 in the seriesWhen our roots are deep and our trunk strong, the limbs can move freely & easily.
by Kara-Leah Grant
Welcome to the third Creative Sun Salutation Abundance flow here on The Yoga Lunchbox.
This week we move into the heart of our abundance sun salutation, moving through variations of Warrior I pose.
Most of you will be familiar with Warrior I, yet no matter how many times you may have done it, there's always something to learn.
Taking time and playing within each pose, separating out the components of it, is a masterful way to learn the posture from the inside out.
When you practice in this way, you don't need to know anatomy. All you need do is train your awareness on your experience.
What happens in my hips when I move my foot this way? If I move this hip forward, what happens in my thoracic spine? If I do this with my pelvis, how does it affect my legs?
This is the heart of our yoga practice – tuning into our breath, bringing consciousness to our actions, and exploring while collecting data and collating results. Over time, this is how I've found ease in Warrior I, which has long been my nemesis, especially on the right side. It's a difficult posture for the hips and spine to release into.
I've learned to find more ease by taking my time and sometimes spending ten minutes or more playing in aspects of Warrior I, adding movement as a way of freeing up holding tension in the posture.
What I didn't know was that this intuitive movement which arose out of my breath and deep state of presence was exactly what my body needed on an anatomical level to release the iliopsoas muscle group, which I suspect was one of …read more
Source: http://theyogalunchbox.co.nz/exploring-how-to-release-the-iliopsoas-muscle-group-in-warrior-i/