RYT-200 Hour Certified Yoga Teacher. Erica started practicing yoga daily to bring herself flexibility, strength and balance. She enjoys doing yoga on the mat in the room, in nature and at the sea side. Erica brings yoga from the mat to everyday life and it helps her to be balanced, non judgmental and to learn new things. She likes learning and challenges, and encourages students to challenge themselves, learn new asanas, practice and enjoy every minute of yoga.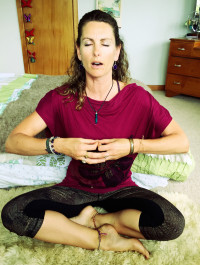 Mid-chant during Day 300 of my practice. (Staged, of course! Normally I'm still in my PJs)
by Kara-Leah Grant
Today was Day 300 of a Tantric yoga practice I'm doing, which got me reflecting on what it takes to commit to yoga.
Every day, no matter what, I sit and do this particular yoga practice, which consists of seated spinal rotations with pranayama, chanting with visualisation and mudra, and meditation.
My intention is to do 1000 days in a row – that's almost three years of dedicated, committed practice. If I miss a day, I have to start again on Day 1.
It's taken me over fifteen years of yoga practice to get to this point – to have enough conviction and faith to commit to a 1000 day practice.
Over the last seven years, I've done multiple Forty Day practices, including Sodarshan Chakra Kriya, a heart-opening kriya, a loving-kindness mediation and a practice for infinite energy and prosperity. I've also done a handful of 90 day and 120 day practices.
This year, I felt ready to finally take the next big step – 1000 days.
Of course, I didn't start with that… I started by committing to Forty Days of my Tantric Meditation. At the end of Forty Days, I extended it to 90, and then 120. Finally, at 120, it was already a given that I was going to go for gold – I was heading for 1000 days.
Patanjali talks about effort and commitment in the first chapter of the Sutras, in 1.19 – 1.22.
He identifies that there are two kinds of people practicing yoga – those who have done so much practice in past lifetimes that states of samadhi (bliss and realisation) come …read more
Source: http://theyogalunchbox.co.nz/patanjalis-five-key-attitudes-for-committing-to-your-yoga-practice/